We met Breana and Adam at the wedding we photographed in Aruba for Liz & Jeff. Breana and Adam had the perfect fall wedding! There were so many amazing details that they made themselves. They turned St Clements Castle into the idel setting of a real life fairytale wonderland! We asked them to tell us more about their wedding.
When was your Wedding?
10-13-2018
What made you choose your wedding date.
The cooler weather and consideration of work schedules.
What was the weather like, and was it what you hoped for? How did it impact your day?
Unfortunately, we woke up to torrential rain on our wedding day. While initially stressful, we knew going in that this was something out of our control and we had taken the necessary measures to ensure that everything would go on without a hitch. To our surprise and delight, the skies would open up in the afternoon a few hours before our ceremony, and our outdoor ceremony was picturesque!
Who did your hair?
Who did your makeup?
Melissa Little
Where was the dress purchased and what made the dress stand out as "THE ONE"?
The corset and the classic "bridal" look just made me feel like a princess.
Augusta Jones, Keira with English mesh sleeves added and gold crystal and opal belt from Sabina KW Design (purchased at White Dress by the Shore),
Where did the guys get their suits/tuxes?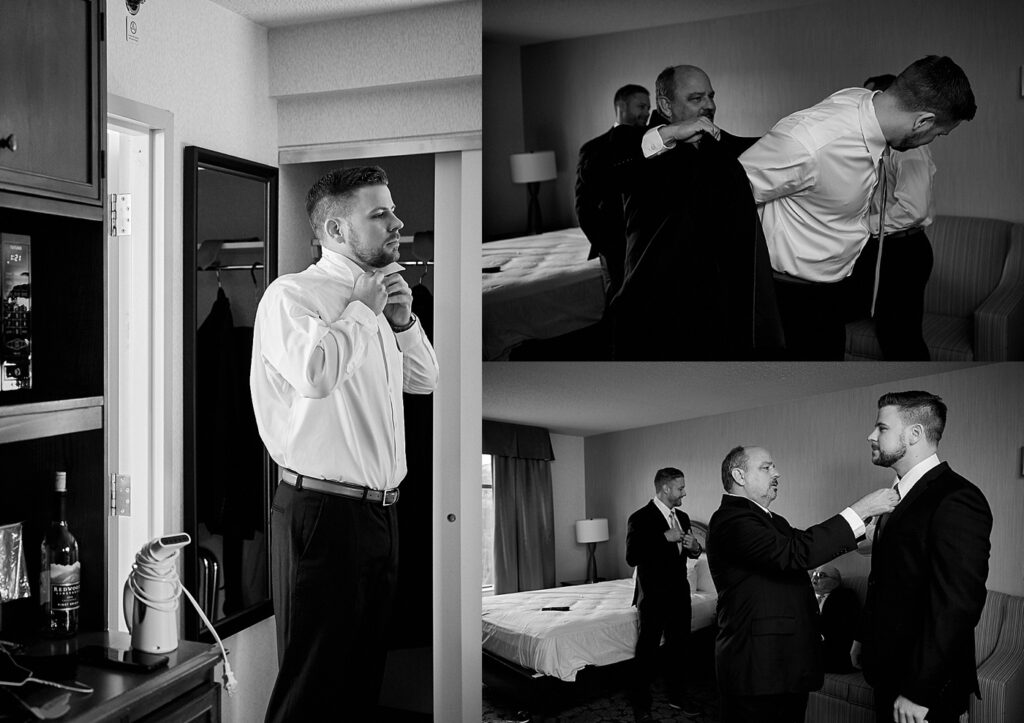 What was the most memorable part of your photography experience with Veils and Cufflinks? (From engagement all the way through)
To be honest, we very much liked the relatively fluid agenda and the thrill of not knowing exactly what scene or layout would be happening next. Besides capturing our special moments in the most incredible ways, we never had to be concerned with what to do because the creative vision of Jerome and Jen is second to none, and we simply just had to "follow the leader" when it came to taking pictures. Veils and Cufflinks brings the perfect marriage (pun intended) of creative vision, execution and personality to make the best of your photography experiences.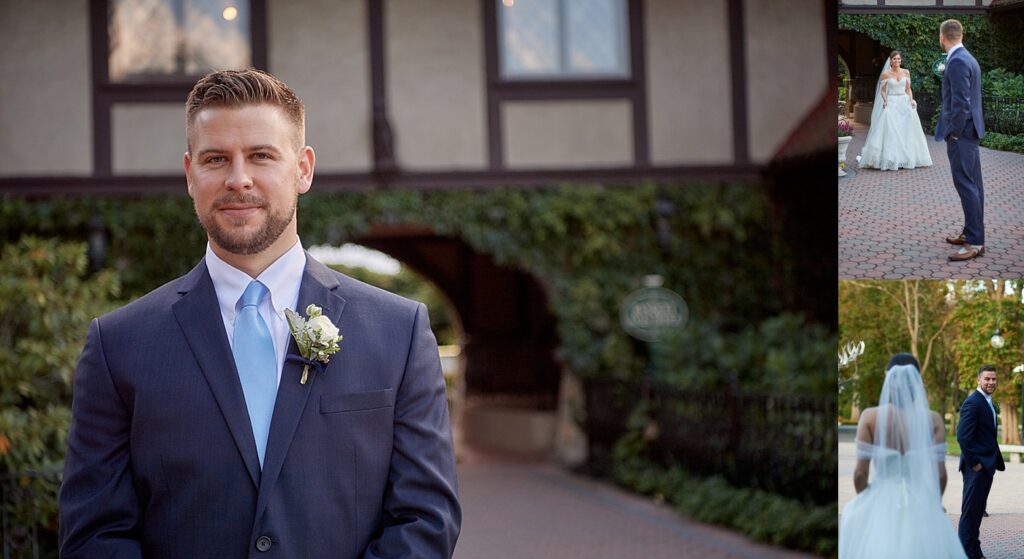 Where did you have your Ceremony?
Saint Clements Castle in Portland, Connecticut
What do you remember most about the Ceremony?
Having the opportunity to see each other for first looks was very special, as it provided us a few minutes to embrace each other and know that there was nothing else that we needed to do other than enjoy what would soon follow. For the Ceremony itself, it would have to be a tie between our person vow exchanges and the scene of having our nearest and dearest gathered on the beautiful grounds of Saint Clements Castle with the backdrop of the Connecticut River.
What was the total guest count? Why did you pick the number of guests you did? Was it hard to get to that number?
We had 225 amazing guests attend our special day, which featured some of our closest family, friends and colleagues who have had such an influence on both of our lives. It admittedly was never difficult to get to this number, only to keep it from getting exponentially bigger!
What was the funniest thing that your remember happening?
A very close premature kiss during the first of two personal vow exchanges. Fortunately, our officiant Quinn Levey, a great personal friend, had intervened to prevent it from happening ahead of his formal permission! Naturally, Quinn handled it with his own personal style of class and humor, and it was good fun for us, our bridal party and all guests.
Where was the Reception held?
Saint Clements Castle in Portland, Connecticut
What made your reception personalized to your own unique vision and expectations?
We personalized essentially everything for our "Fairytale" themed wedding. From 5 unique do-it-yourself table centerpieces concepts to handcrafted wedding favors acknowledging our donation to a local organization where we had rescued our dog Rosie two years prior, everything about the Reception was "us" and it was very special to see it all come together on the big day.
What ended up being your favorite photo/moment?
The character of Saint Clements Castle offers so many scenes for photography, but we would have to go with the either the scenes under the arbor with the Connecticut River backdrop, or the scenes under the vines in the courtyard. There are many incredible scenes from our special day, but either of those two are arguably be the best!
Who was the florist?
Besides the "getting married" part, what was the most vivid memory of the wedding day? (for both of you)
For the both of us, besides marrying each other, the most vivid memory that we have of the day was being surrounded by all of our guests with genuine love and happiness for us.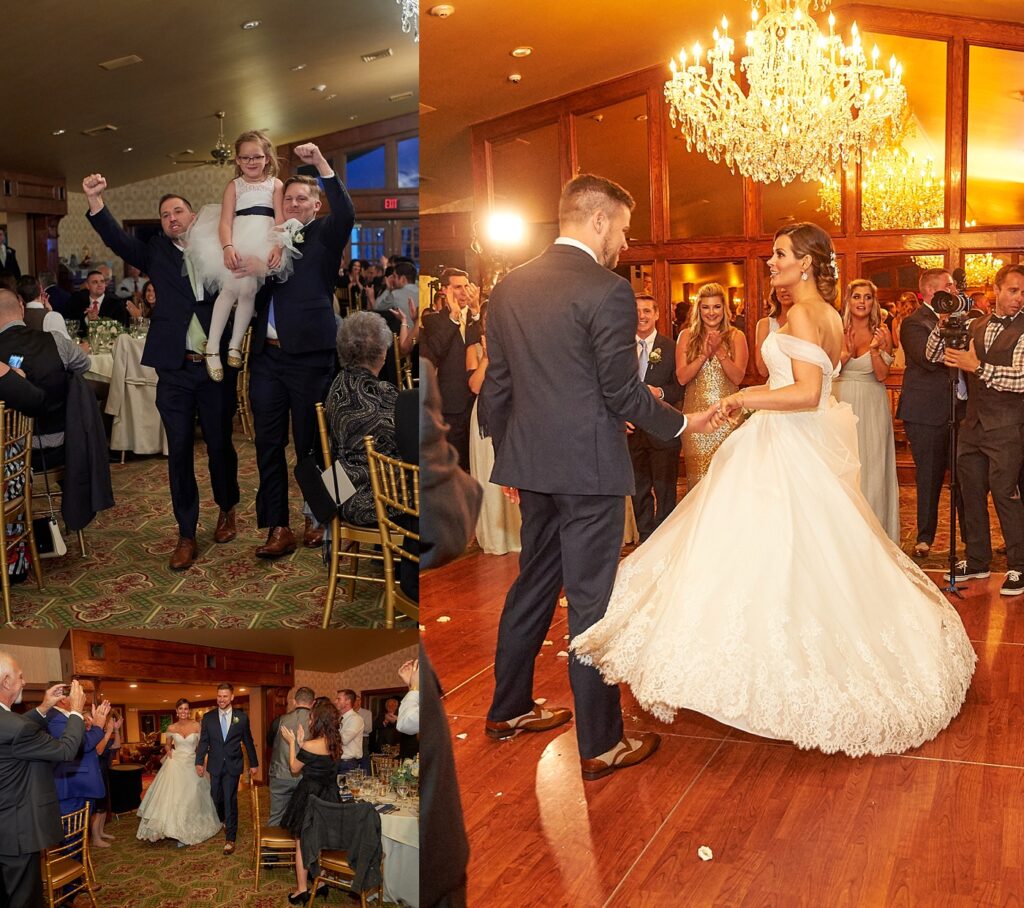 Who was the entertainment?
Where did you get your rings?
Romanoff's Fine Jewelry (bride's band) and Cellini Jewelers (bride's engagement, grooms's band)
What regrets, (if any) do you have about the planning of your wedding and your decisions leading up to the day?
We would have benefited from not procrastinating on all of the "little things" that in aggregate can add up, particularly when we both lead busy personal and professional lives. We could have saved ourselves a lot of stress and time by getting ahead of a lot of the projects we had taken on and/or soliciting the help of our family and friends earlier in the process. But with our two "alpha" personalities steering the planning, we thought we could accomplish it all ourselves and on time, only to later come to the realization that we had bit off more than we could chew. That said, we weathered the storm together, and with the help of our family and friends, produced some amazing elements that would be featured during our special day.
Other Comments you would like to add….
All of our vendors, from Veils & Cufflinks to the staff at Saint Clements Castle, were absolutely amazing. This goes beyond just what they were able to do the day of our wedding to everything leading up to the big day. We were very fortunate to not only have found such talented and caring individuals, but those with personalities that we were able to connect so well with.
Any advice to offer new couples who are planning their own wedding?
Don't procrastinate and always remember that few, if any, will ever notice whether or not "this thing" got done or not. Focus on and support each other throughout, and it will all work out in the end.
List some of the designers of your attire from wedding day. (dress designer, suits, ties, shoes, etc) We would like to place these next to some details shots of all these.
For the bride, Bespoke Harriet Wilde blue suede shoes with our wedding date and "Mrs. Walker" on the soles, Augusta Jones, Keira with English mesh sleeves added and gold crystal and opal belt from Sabina KW Design (purchased at White Dress by the Shore), EDEN LUXE Bridal bracelet and Ilona Rubin Petite Delights earrings. For the groom, Jos. A Banks navy blue suit, Bows N Ties light blue and sage green ties, Macy's for the two- tone dress shoes, traditional white dress shirt and tan dress belt, and boldSOCKS for the "Kraken" dress socks to "Release the Macken" – Breana's maiden name.
Who was the videographer?
Who was the officiant?
Quinn Levey
Who was your coordinator or designer, (if any)?
Pamela Marshall, Jena Del Piano
Where did you take your honeymoon? And how did you like it?
We elected to do a "mini-moon" to allow us more time to spend with our guests following the wedding and to plan (and save) for a honeymoon for the following year. With so much planning and time dedicated to the wedding, this helped take a stress variable out of the equation. Our "mini-moon" was in Skaneateles, New York at Mirbeau Inn & Spa, which was four amazing days of relaxion, wining & dining, exploring the local area and enjoying our first days as husband and wife. This also provided us with the time to reflect on the wedding day and all that led up to it. We highly recommend this for any couple looking to getaway for a few days without the worry about the particulars of travel and agenda logistics immediately following their wedding. Later this spring, we will be embarking to Greece and France for our honeymoon and we cannot wait!